Saturday, June 24, 2006
Togo 0-2 France
Switzerland 2-0 South Korea
With Switzerland and South Korea heading up Group G leading into tonight's action, we headed to
Bouchon Bar
near Clapham Junction to take in some French angst firsthand. Arriving immediately after the Group H games, we surprisingly found the best seats in the house already occupied ... however our usurpers won our friendship when Cecile (right) painted all our faces with the Tricolor.
Settling into the second best seats in the house (that the helpful barstaff allowed us to reconfigure for optimal football viewing) we enjoyed the buildup to the game of French wine, French cheese, and French "Who wants to be a millionaire". At kick off the bar had filled out nicely, but as the game progressed and France failed to find the net the tension began to mount. Heres a photo of Cecile barely able to bring herself to watch ...
French support was unwavering however (although curiously there seems to an unwritten law that states all chants must be based on the word "Allez!") and eventually they were rewarded with two quickfire second half goals cueing scenes of jubilation.
All in all, it was a successful visit ... the passion of the French fans surprised me, I found myself chanting "Allez Les Bleus!" with the best of them, and I wasn't the only one. Pooch was drumming on the table so much his hands were bleeding by the end of the night - the idiot. Roll on France v Spain.
Saudi Arabia 0-1 Spain
Ukraine 1-0 Tunisia
Castilla
on Battersea Rise hosted us for the final Group H games. With Spain needing only a draw to secure top spot in the Group, Aragones fielded his reserve team, denying us the pleasure of seeing the flair of Torres and co dominate another game.
So while the game wasn't all we'd hoped for, the venue was excellent - friendly Spanish staff, excellent tapas and sangria, made all the sweeter by the arrival midway through the first half of a group of attractive young Spanish ladies - one of whom I think is the best looking girl we've seen on our FIFA World Cup inspired travels. A bold claim - and one that caused some controversy - but I stand behind it. Sadly at this stage I can't post any photos - however this will be rectified within the next 24 hours (likely as a comment to this post) so stay tuned ...
Friday, June 23, 2006
Bonjour Mes Amis
Just a quick word about the plan for the upcoming weekend:
Today from 5pm: France vs Togo ko. 8pm
Bouchon Bar
@ Clapham Junction





Watch Grandpa Zizou and his team of undersea adventurers take on Togo in a must-win game.

Tomorrow (Saturday) from 6pm: Argentina v Mexico ko. 8pm
Rhythms Of Latin America
@ Institute Of Contemporary Arts
Argentinian Dance, Brazilian folk and Mexican anguish as the team of the tournament stroll on.
Admission £10 - proceeds go to disadvantaged children in Ecuador


Sunday from 2pm: England v Ecuador ko. 4pm
Xbox Believe
@ Old Truman Brewery
Lie back and think of England as they put us through the wringer for another ninety minutes.

Admission £10


I hope to see some but not all of you there, Allez Les Bleus!
Thursday, June 22, 2006
Czech Republic 0-2 Italy
Ghana 2-1 USA
With more Group E action than at a Motley Crue gig we saw Italy and Ghana emerge as the victors in the real "Group of death".
We attempted to watch the game in
Bar Italia
on Frith St but were clearly too late in departing as the Italians were already there in force and an edgy overflow crowd had been forced into watching from the street:
Instead we reverted to plan B a lovely Italian cafe called
Linda's
on Poland Street. Yet again they were amazingly friendly and helpful. Be it moving us closer to the big TV, lots of lovely food served before the game or a quick and steady supply of vino and Nastro Azzuro.
I felt Italy had their most impressive game yet in the competition, Gattuso was very solid and Materazzi and Pippo Inzaghi providing the goals - much to the delight of the Italian staff.
Perhaps the Czechs would have progressed further had they not chosen Tony Hart as a manager...?
It remains to be seen whether Italy can morph into a team capable of winning the competition but with that side of the draw full of easy teams they should at least reach the semis.
Ghana thankfully knocked out the USA in controversial circumstances but due to lacking the extra visual cortex necessary to watch both games simultaneously I can't comment further on that.
We're resting tonight in preparation for a trip to
Bar des Magis
in Clapham tomorrow.
Arrivederci,
Pooch
De Hems - Wij houden van Oranje
Holland 0 - 0 Argentina
Ivory Coast 3 - 2 Serbia & Montenegro
Following yesterday's disappointment, our overseas friends continued to embarass us with their superior hospitality. The staff at De Hems were very helpful and our policy of getting there 6 hours before kick-off payed off this time, in contrast to yesterday's Crown and Two Chairmen debacle. We highly recommend De Hems.
Here it is at 2pm:
...and here's De Hems at 6pm:
The game was good, considering a few big names had been dropped, though not amazing. Argentina seemed to have the best of it (shhhh) but were unable to prove it with a goal. I wouldn't be too surprised to see these two meet again in the final - it'd be nice to see them play again with the World Cup trophy at stake.

This game also included the highlight of my life so far, which I'm proud to share with you, blog-readers. Midway through the first half I had the good fortune to come across a long cylindrical Holland balloon. My good fortune continued when I discovered by accident that there was a hollow spot on the nearby wall and that hitting the balloon against it produced a satisfying and surprisingly loud noise. After some encouragement, I proceeded to beat out the appropriate rhythm (de de - de de de - de de de de - ...) and was proud to find the crowd shouting "Holl - and" at the appropriate point.
I led the Dutch in song. I can die happy. Here I am hitting the wall with the balloon - so happy that I've gone all blurred:
Special praise to Leah for standing outside in the queue for the whole of the first half - managing to get in at half time:
... (not to take anything away from me, Pooch, Dann and Arun who had been their since 2pm)...
And thanks to our new Dutch friends for explaining why the Dutch wear orange and what the letters on their shirts mean (explanations upon request). Here's a picture of the ugliest of our new friends:
The Ivory Coast, meanwhile, completed a very impressive World Cup campaign with a 3-2 victory over Serbia & Montengro, with a 3 goal come-back led by Dinedine Dindane. I assume that's his first name.
Don't Shoot
Portugal 2 - 1 Mexico
Iran 1 - 1 Angola
Portugal and Mexico battled out a largely meaningless tie in surprisingly exciting style. There were a few minutes towards the end where another couple of goals might have meant Angola went through at the expense of Mexico (on goals scored) but it wasn't to be.
Mexico went some way towards vindicating my unswerving support by turning on the style in places. They passed the ball around attractively on the edge of the opposition box but were sadly too scared to shoot. It made me proud to (pretend to) be half-Mexican, but you have to wonder if they're on a no-shooting related bonus. Their first instinct on getting into the box was clearly "dive", not "shoot". Portugal were worthy winners but I'm still backing Mexico to come good.
Meanwhile, Iran did themselves proud by coming back from a goal down to grab a point against Angola, who can also be proud of themselves after adding this point to their point against Mexico.
Wednesday, June 21, 2006
Disappointing
The Crown and Two Chairmen did indeed let us down badly. The constant fobbing off was the most annoying thing, along with the fact that they clearly only shut the bar so that their mates could have the good seats when they got there. Disappointing. So were England, but I don't really want to talk about that.
Off to De Hems now to try and get in ready for the Holland v Argentina game this evening. See you there.
The Worst Pub In London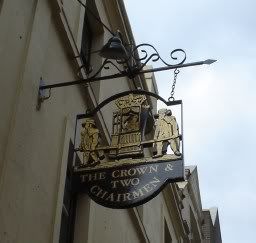 The Crown and Two Chairmen used to be a nice, unpretentious place. It had a big function room upstairs with a big screen where we've watched a few games before in a cracking knowledgeable atmosphere.
We were a little suprised when we arrived there on Tuesday at 2pm to find that it had become a sort of Gastropub but the function room and screen remained (abeit decorated in some post-modern way) and despite my misgivings we stayed for an afternoon and evening of football goodness. What a mistake...
Things started to go wrong when we noticed some signs saying that the upstairs bar would be closed between 5pm and 6pm "To prepare for the England game". Fair enough we thought but we didn't want to lose our prime viewing seats (we were the only ones there at that time) so we had a quick word with the barman and he said we could leave some of our posessions up there to indicate those seats were taken.
The Gremany(sic) match finished with the Ecuadorians "failing to turn up" as we put it, so we left our jackets and went downstairs to get some food until we were allowed back up again.
"Can we order some food?" we aksed - a reasonable enough question for this type of pub but the barman replied that the chef wasn't there and he wasn't sure what time he was in (even though food was available supposedly "all day"). Eventually we managed to get at 5.30pm ETA for the errant chef so we ordered some crisps and settled down to selecting fantasy England elevens.
5.30pm arrives so when get a round in I ask if the chef is here, "I'll find out" replies the ever helpful barman. He doesn't, he just serves some more customers. Meanwhile Dann checks upstairs to make sure our belongings are ok. They'd been moved into a neat little pile on a small chair - so much for saving our seats. The joyous time of 6pm arrives and with our numbers bolstered by some work colleagues of mine we head upstairs. The barman comes in to the upsatirs bar and shouts "I need you all downstairs until 7pm please". Uuurgh, am getting more and more irritated by this especially as the "setting up" seemed to amount to putting ashtrays on tables and a few ominous looking "Reserved" signs on some of the better seats.
At least when we returned downstairs we could finally order some food, the chef must work short hours because five minutes after I had managed to order my friends were told that the kitchen was closed. Dann is told by the barman that the bar manager is coming to talk to him about "the tables situation". Dann has a little conversation with her and is handed two green tickets, these guarantee us entry to the upstairs football bar. I point out to Dann that there are six of us and he manages to get a few more of this sought-after commodity.
The food eventually arrived and was ok but we had to wolf it down as we'd realised the green ticket didn't actually guarantee that much and a much better idea was to queue up on the stairs. Shortly before 7pm we see the VIPs being shepherded into the reserved seats and when the doors finally opened we managed to mostly get the seats we want.
What a crowd though, most of them didn't seem to know anything about football or England's standing in the group or the other World Cup games. The tossers in the VIP seats didn't seem to be even watching the game. In some ways they were like the Japanese crowd, I think they just wanted some event to go to and shout a bit and then go home afterwards.
So my advice is never go to the Crown and Two Chairmen on Dean St. for football, unless of course you like being fobbed off and told conflicting things about the viewing arrangements all day.
The match itself was the usual England fare, blood and bluster, an unfortunate injury to 25% of our strikeforce and the usual England fade-away in the second half.
On Sunday I'm going to a proper pub to watch the game, not somewhere in the centre where all the pubs seem to be "on the take", somewhere with proper football fans, somewhere where it means something to people. I'm disappointed that on all our travels the worst crowd and most unhelpful barstaff have been at the English venue, everywhere else we've received mostly accurate information and made to feel really welcome and that our custom means something.
To end on a positive note I give you this picture of the big man from yesterday's Guardian, enjoy: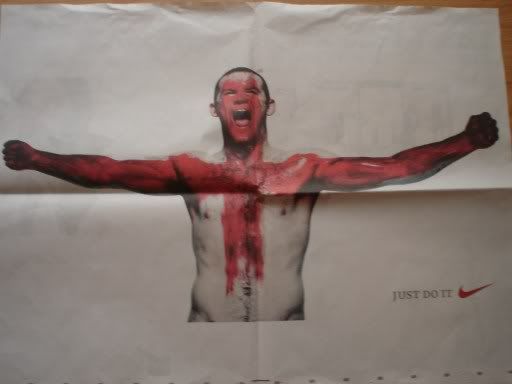 Tuesday, June 20, 2006
Viva Espana
Togo 0-2 Switzerland
Saudi Arabia 0-4 Ukraine
Spain 3-1 Tunisia
Greetings blog-fans! Joe's reign of blogging terror is at an end as I (Pooch) return to tell you about the delights of
Bar Sol Ona
where we watched the evening game with more Spaniards than a dyslexic dogs home.
The bar was on Old Compton St. next to Cafe Boheme and down some stairs, a lovely little place where we enjoyed a plentiful supply of Tapas (I particularly recommend the Octopus) and Rioja.
Our lovely waitress - the photo is not really adequate
Senoritas
Very good plasma TV
Arun is accosted by a Spaniard, the flag is of the Asturias region of Spain
There was a sizeable and knowledgeable Spanish contingent, they reflected their team and were pretty quiet in the first half but became more vocal as Spain equalised with a goal from Raul and Torres started to show glimpses of his amazing talent.
I feel terrible this morning but am really looking forward to the game tonight. We're off to the
Crown and Two Chairmen
on Dean St. - a proper English boozer which we hope will be packed to the rafters. Hopefully England will finally show their true potential and give Sweden a tonking but it will be most likely 0-0 bore draw.
Laters...
Monday, June 19, 2006
Crazy Japanese
Japan 0 - 0 Croatia
Brazil 2 - 0 Australia
France 1 - 1 South Korea
Me, Pooch

and

Kev watched the Japan game in what used to be The Moon Under Water on Charing Cross Road. It's a Lloyds bar now and for the World Cup it's been converted into some sort of Japanese-food-serving-cum-big-screen-for-football-watching venue.
Despite paying £12 for a "VIP" pass, the service was a bit rubbish. It didn't seem to be possible to get food, despite there being a menu on the table, and it was quite difficult to get drinks.
The atmosphere was pretty special though. Every time anything happened, exciting or not, the Japanese fans that were crammed into the venue went absolutely mental, jumping up and down and screeching at ever increasing pitches.
In the picture below I'm not even sure anything of any note had happened. The crowd was just celebrating anyway.
The other exciting thing, from my point of view, was receiving my glass of sake in a square wooden box.
This experience really brought home to me why traditional drinking vessels are of circular cross-section. I discovered that my best bet was to try to drink from the corner of the box but even that was fraught with difficulties.
By the end of the match I had mastered the task, but I still have a suspicion that the Japanese staff were laughing at the stupid Englishman who was actually drinking out of the comedy wooden box.
We're off to a Spanish bar in Hanway St (Fitzrovia) tonight probably, or somewhere near there. See you all there.
Sunday, June 18, 2006
Handing Out Cards Like Confetti
Portugal 2 - 0 Iran
Czech Republic 0 - 2 Ghana
Italy 1 - 1 USA
We watched these games in Henry J Bean's in Camden. It was alright.