Saturday, June 17, 2006
Final Final Prediction
Having seen the teams I'm now ready to call the last match: Italy will beat France 5:3 in a penalty shoot-out. It will be 1:1 after 90 minutes and after overtime. Zidane deserves his red card. So now you know.

I'll be in AJ's Sports Bar (Florida) to see the US take on Italy at 3pm EST.

Un gran día en Bethnal
As Joe said we had an excellent time at
Rich Mix
(The Tea Centre) and
Green & Red
. Word of warning though: Green & Red didn't open until 5.30pm so it's probably only good for the late games. I can thoroughly reccomend Rich Mix though.
Here's some more pictures:
The Screen at Rich Mix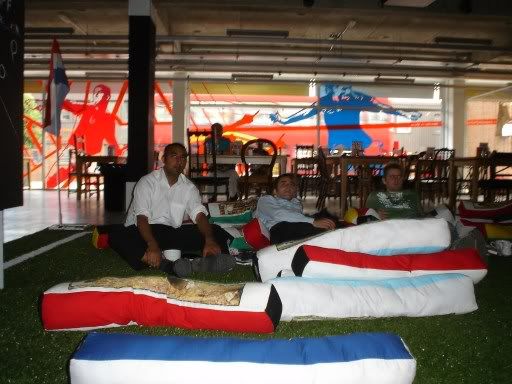 Sat on the floor at Rich Mix
Green & Red - hard to spot the sign
Fu and Mike down Mexico way
Tequila!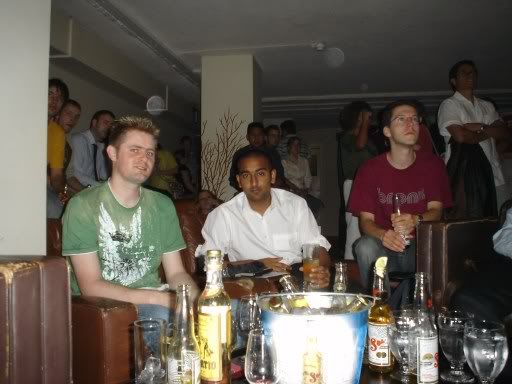 Good time had by all


Has anyone got any tips for good hosting solutions for audio files? I've got a great mp3 snippet of some tuneful mexican singing.

Not sure what the plan for today is but I'm pretty sure we can't have as good a goal as we saw yesterday, or can we...?

Awesome
Argentina 6 - 0 Serbia & Montengro
Holland 2 - 1 Ivory Coast
Mexico 0 - 0 Angola
Argentina were awesome. They looked impressive in their first game but this was even better. Serbia & Montenegro didn't put up as much resistance as you might expect but Argentina just took them apart. They even had to time to score THE best goal in history. Certainly the best team goal in World Cup history, which will hopefully mean I don't have to watch that Carlos Alberto goal every week anymore.
Holland v Cote D'Ivoire was nicely poised at half time but CIV didn't seem to want to go for it in the second half. We watched the game at
The Tea Centre
in Bethnal Green which was some crazy cinema-cum-cafe with a pretend pitch. Best use of lottery funding ever. The highlight was seeing Robben booked for diving.
The Mexico game was a bit of a disappointment. The bar ("Green & Red" at Bethnal Green) was pretty good, with plenty of Mexicans and a vast selection of tequilas. We lounged around on the sofas in front of the screen while the Mexicans all crowded round behind. You have to get there early.
Thankfully, the staff foresaw the dull game to come and entertained us by playing the commentary about three seconds before the visuals. If there had been any goals this would have been annoying, but as it was it enabled us to pretend we could see the future. No-one was fooled. We laughed.
Friday, June 16, 2006
"It's Not About Robotic Dancing Anymore"
Peter Crouch proclaimed this before the World Cup even began but the full meaning of it only actually dawned on him with 7 minutes to go yesterday. Thank goodness. Within minutes Steven Gerrard had understood too and World Cup glory was on again.
Another great quote came from Leo Beenhakker, the Trinni, Dad & Toboggan coach:
"When they meet stronger and better teams they may have to show more patience. This is free advice - I will not ask money for it."
Such good advice for such a small charge.
Ecuador 3 - 0 Costa Rica
England 2 - 0 Trinidad & Tobasco
Sweden 1 - 0 Paraguay
Extending this pattern on, it is clear that the first game of today will be a 0 - 0 draw. I can't even imagine how the pattern would extend to the next match.
See you all later in "Green and Red" in Bethnal Green.
Buenos Dias Gringos
Looks like we may be off to
Green and Red
in Bethnal Green tonight. They aren't taking reservation so get there early (Joe and I should be heading there for the middle game too).
Phone us for more information...
A couple more people are doing a similar thing to us. They seem a little more professional than us but I suspect they've missed more football (Joe aand I still have a 100% record):
World Cup In One City
StattoStatto
Adios Amigos,
Pooch
x
Thursday, June 15, 2006
Dann's Prediction League Update
Gav consolidates his lead at the top with two correct scores predicted and Simon Heather breaks away from the pack with ten points from today, the best performance in a day of games so far. The jostling for the places behind continues and anything could happen tomorrow so stayed tuned...
Greetings from the top of the prediction league!

Laura and I saw England's woeful performance in a golf club. The first half was notable for the bambi-esque ineptitude of Crouch infront of goal. I had to get his photo from the BBC website as I couldn't make it to Nuremberg.

The smiles below was created by Crouch's headed goal, shortly before Gerard's left foot produced a stunning second.

England must have done something right to win the support of these notorious Frenchmen...


A Little Culture
I penned this in one of my more artistic moments this morning:
Dunlop tyres, canal for t' mill, dreaming spires, penicillin pill
.
Chavs in their Burberry caps, city bankers in their bowler hats.

Cups of tea and pots of jam, fried egg sandwiches, breaded ham.

M25 and British Rail, lobster suntan or woefully pale.

Forever may it stay grey or green, a better place I've never seen.
Now I'm off to get bladdered and watch the lads...
Sharma's Superstars
Now that we've seen all the teams in action, and in the interest of encouraging debate (and by debate, I mean you better agree with me or else), I've decided to put forward my team of the tournament so far ... Sadly I've managed to see every game apart from Spain vs Ukraine, so I'd like to give an honourable mention to Alonso and Puyol, who looked good on the highlights but I didn't feel I'd seen enough of them - so they're cut. I've gone for a 3-4-3 formation (diamond in midfield).

GK: Boruc (Poland)
DEF: Ayala (Argentina), Ferdinand (England), Lahm (Gremany)
MID: Essien (Ghana) - Rosicky (Czech), Cahill (Australia) - Riquelme (Argentina)
ATT: Saviola (Argentina), Torres (Spain), Robben (Holland)


No great surprises sadly ... The only person I'd never really seen before was Lahm for the Gremans - impressed me a lot going forward. Also interesting that England's arch-rivals are the only team contributing more than one player ... What'dya think? If you disagree with my selections I'll use my famous ninja powers of hypnosis to persuade you to see the light ... as demonstrated in the photo.

Wednesday, June 14, 2006
The Tunisian District
Spain 4 - 0 Ukraine
Tunisia 2 - 2 Saudi Arabia
Germany 1 - 0 Poland
Today me, Pooch and Denning took a trip to London's Tunisian district at Edgware Road. There was a (slightly) thriving Tunisian community as you might expect but, perhaps as a result of their no-drinking policy, there were no Tunisian bars. We had hoped for maybe a Tunisian cafe or the like but had no so such luck.
So, in the end we went to The Windsor (?). The patrons and staff were very friendly and the layout of the pub was such that it was a bit like watching the game in your own lounge - which makes you wonder why we went on a two hour round trip to Edgware Rd to watch the game on an inferior screen and pay for our drinks. That's commitment for you, though.
Denning had a couple of drinks and was therefore his usual larey self. Notice him threatening Pooch in this picture.
Kate Moss was there too, on her phone, as is evidenced by this photo.
I found Spain quite impressive today but we'll have to see what they're like against stiffer opposition - Ukraine weren't the side the media had led me to believe I'd see.
Tunisia and Saudi Arabia weren't great but they both gave it a good shot and entertained us increasinlgy towards the end of the game as the prediction league standings fluctuated one way and then the other as the late goals went in.
In the evening game I was left feeling very sorry for the Poles. They defended bravely, and largely well, for nintey minutes, only to let in the inevitable German goal in injury time. Poland aren't out yet but it's looking inevitable. Surely Germany aren't going to surprise everyone again? I can see them stumbling to the final again...




Prediction League
Here's a word from the prediction league chief, Dann:
The table seems to have split into two sections with 3 points separating the top 9 people and the other 3 languishing over 10 points below that. After predicting a draw in the South Korea vs. Togo game, Arun is caught by Simon and Gav, with the rest of the field gaining ground.
The latest standings can be found in the side-bar.
Eh Franca - Vaka Man Du!
That's what the Brazilians were chanting in Guanabara last night. I can only assume it means "Hey, France! Dash you all!"
It was an amzing atmosphere at Guanabara. I haven't seen anything like that for a while. As Pooch said, Brazil weren't great but the fans were amazing. For about an hour before kick-off there was dancing on stage, with a man doing fancy kick-ups, all to the backdrop of images from Brazil.
In the first few minutes of the game, Ronaldinho did a couple of nice things and the crowd just went mental. They calmed down a bit afterwards but I think that's a reflection of Brazil's relatively poor performance. It's a good job though, otherwise the crowd would definitely have exploded.

And here's a picture of one of the helpful barstaff - not taken for my benefit - merely to convince Arun and Dann that we need to go back there.
Joga Bonito
South Korea 2 - 1 Togo
France 0 - 0 Switzerland
Brazil 1 - 0 Croatia
Well, they might not have played beautifully last night but they certainly watched it beautifully.
The day started chez-Pooch where Joe and I surged ahead of the competition by consolidating our 100% games-watched record. Unfortunately it was the worst game of the tournament, a shame the Togans couldn't beat the Koreans as they are dull - they play a bit like Japan on Valium.
As the game was ending the heavens opened, it was like a tropical thunderstorm (a portent for the Brazil game?), so we ordered a cab for the journey to
Guanabara
in Covent Garden (remarkably cheap at £10)
We got there at 4.30pm and that was a good time to make it, it wasn't too busy (the bar wasn't open yet) but there was a steady flow of yellow and green shirts. By 4.50pm the steady stream had turned into a surge to match the earlier rain and we had good positions in a sizeable queue to get a table in the bar. When the floodgates were opened we secured a table but only one with wet varnish on the benches and a poor view of the single giant screen. So, following the cool crowd, we sat on the floor. When La Marseillaise was played from the (very-)loudspeakers there was a massive chorus of boos from the Brazilians, I'd forgotten about France's robbery of their crown in the '98 final, they had clearly not.
That said, there was a sizeable French contingent:
As the game wore on and Switzerland pressured the French goal there was some shouting between the French and the more vocal Brazilians but it all passed peacefully and when the ref blew for full time the French left with an air of dejection.
On with the Samba beats, by now the place was rammed and our friends were giving up trying to get in with queues round the block. Joe and I gave up our limited floor-space to attempt to find a more comfortable standing vantage point. The crowd were being whipped up into a frenzy by a troupe of Brazilian dancers, a professional ball-juggler and a live Samba band:
The samba party was getting pretty frantic and Joe and I were worried that we weren't going to be able to see the screen (see lower picture). Things reached a crescendo during the Brazilian national anthem and then, as the players were about to kick-off the strangest thing happened: everyone just sat down on the floor. It was amazing to see and meant that most people could get a good view of the screen.
The game itself didn't live up to the expectations of the local crowd and the world. Ronaldinho had some occasional flashes of brilliance in the first half and there was Kaka's magnificent match-winner but not much else. The crowd at Guanabara went into a nervous quiet after about fifteen minutes and when the final whistle went there was a palpable sense of relief.
Joe and I squeezed our way out pretty quickly back into the seemingly unreal, damp English night. We had an interesting conversation on our way back:
1) I compared the Brazilian crowd to the English: they ram as many people as possible into a venue, play rousing tunes before the kick-off but I think that's where the similarity stops. Sure, we get nervous but when the chips are down during the game we generally get behind the team vocally. There didn't seem to be much of that from the Brazilians
2) I remain convinced we will win the FIFA world cup (anyone listening to Baddiel and Skinner's podcasts?). I know we didn't play well against Paraguay but I've not seen anyone I think we can't beat. The best team I've seen so far has been Argentina and we've proved we can beat them, we'd face tough tests against Brazil, Holland, Czech Republic and Brazil but none of these big teams has been tested in defence yet. With the big-man back, Owen a little sharper and the midfield more lively we can test anyone.
One more picture from Guanabara (best venue so far, we'll be back there often), I'm hoping Joe will put some photos of the gorgeous Brazilian women up later...
Pooch
xxx
Tuesday, June 13, 2006
Great game last night. Finished at 1am for us in Brisbane. Everyone was pretty rough in the morning to work. Drank a lot of Castlemaine XXXX. Brazil should be a breeze so I guess the final will be England V Socceroos and we know what happened last time those two met?
Aussies Rule /Rock The Calabash
Another scorching day in London and another three quality games of football:
Australia 3 - 1 Japan
USA 0 - 3 Czech Republic
Italy 2 - 0 Ghana
Things were looking up for the aussie game as I found there was a walkabout 5min away from
the Czech and Slovak club in West Hampstead. Too good to be true?
Of course it was! The Czech and Slovak club was closed on Mondays (as was the Czech centre, what is this th Czech sabbath?) so we had to revert to plan B. At least we had a planB though - Sven take note.
So instead we hotfooted it to
Belushis
at London Bridge which is below a youth hostel and should have been full of our Antipodean cousins. It turned out great, there was a good atmosphere from the Aussie crowd, massive burgers with Beetroot and egg on them and genuine Victoria Bitter:
I don't actually like it that much but thought it would be more authentic! The game itself was very good, high paced good passing and just a touch of physicality. Japan put together some great passing moves in midfield but only threatened occasionally up-front. For the Aussies Cahill and Aloisi scored some crackers and Viduka played much better than I've seen him generally play.
We rushed back in the energy-sapping heat to base camp to watch the Czechs who were also very impressive. Rosicky seems like he can hit a ball well(!) and should be entertaining for the Premiership but it was old Nedved who was pulling most of the strings. They were comfortable winners against an organised USA side but I have a feeling they're going to struggle against a team with more of a cutting edge.
As soon as the final whistle blew it was out of the flat and I set us a frightening pace to make it to Covent Garden to watch the Ghana game at the Africa Bar. Mike had gone on ahead an when we finally made it to Waterloo he had some poor news for us: "The hall is closed for a board meeting, the would be showing all the other games though. There is a restaurant and they've said they'll show it, they've only got one small TV though".
I was undettered, this was just the sort of venue I was looking forward to and though I could sense some doubts in the group we continued on. When we arrived there Mike was trying to keep our hopes down. The television was small and the tables were miles away from it. Furthermore there were no Ghana supporters in there at all, in fact there were no Africans (except the staff) and few other customers.
We couldn't have hoped for friendlier and more helpful staff though, they moved out table close to the TV and perched the TV up on top of two tables:
Mike is using his head there to give a sense of scale. The match was pretty good, Italy were a bit nervy until they scored. Ghana played some attractive football but seemed to want to walk it into the goal at times. This seems to be a common theme among the emerging nations and while I applaud it for the purposes of defeating Arun at the top of the prediction league I sometimes wish they'd just hoof it into the box.
The food and drink was also noteworthy, here's Mike's fish:
The rest of us had Groundnut Stew, Joe had battered Yams as a side and we finished it off with some great deserts.
The beer was pretty decent too:
(I can only assume it's made of Tusks)
All joking aside I had an amazing time here, it's the
Calabash
restaurant in the basement of the Africa Centre, Covent Garden - I can't reccomend it enough if you want food that's a little different and friendly staff.
After an overnight monsoon it's heating up again as we prepare to head to
Guanabara
to watch the champions play, should be good,
Much Love,
Pooch
x
Monday, June 12, 2006
Greetings from the US!
The US-ians were defeated by a strong Czech performance. This was the "Battle of the Buds" and it was clear that the beer (Budvar) beat the water (Budweiser). We were watching in a Sports Bar called AJ's where local students were following their home side. The photo below was an attempt to capture some of the 300 million TV screens from which the bar is built.
Day 4 In the World Cup House

Serbia and Montenegro 0 - 1 Holland
Mexico 3 - 1 Iran
Angola 0 - 1 Portugal

Football was the winner on Day 3.

Iran probably deserved more against Mexico but fell apart a bit at the end, bless them. I was a bit disappointed with Mexico as I've been bigging them up for months, but they didn't really do much of any note.

It was also good to see Holland and Portugal struggling in the second half and scraping 1-0 wins. It makes me think maybe England are doing something right.

The other highlight was Kev winning a pound by betting with 15 minutes to go in the Mexico v Iran game that one of the players would put their hands together and look to the sky in a praying gesture. You have to wonder if he'd paid one of the players off.

Me, Pooch and Denning are off to Belushi's at London Bridge now (an Australian bar) for the Australia v Japan game. See you there. If Denning is to be believed, you'll be able to recognise us as one of us will have red hair.

Greetings from Florida!
Laura and I had to be out on the town at 9am to see the England game. The Irish bar we were in soon filled up with supporters of Sven's men, and the photo below captures the atmosphere well. Later we supported 10-man Trinidad 'n' Tobago as Shaka Hislop earned a point for them in their first World Cup game.
I'm not aware of any bars here operated by Argentinians, or people from the Ivory Coast (Ivory Coastians?). We saw their game in the local airport bar as a friend of ours was flying out for good. This seemed appropiate as I'm sure we could have got a flight to either country had we wanted to.
Today we saw Mexico convincingly beat Iran in a Mexican restaurant. We were supporting Mexico because we wanted to see the staff happy. However, in retrospect, my vocal support of the Mexicans would surely have been understood to be hatred of Iran by the locals: They would have assumed I was a redneck :(